Pension White Horse Valley on Thassos Horse Club....
Enjoy your holiday on our agritourism farm on Thassos
Our pension is situated 200 meters near to the port Skala Prinos and to the centre of shopping. The seasides are not long a way.The building has 5 single - apartments [ studios ] for a rent....
Every apartment has bedroom, kitchen and bathroom, everything is self-contained.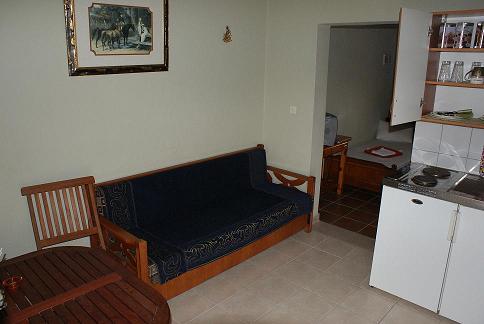 All of them have fridge and cooker, WC and bath, TV, WiFi Internet, air condition, and large terrace which you can use for a having a breakfest or only for your relax. You can take a look to the mountains, to the sea or the olives trees.
Agritourism by us: large garden offering fresh fruits and vegetable as watermelons,yellow melons, tomatoes, and many other - everything bio - for you
Agrotourism : fresh eggs from our chickens for you
Agrotourism: have a trip with the horses
Everything is olso possible for the handiccaped people that they can enjoy the agritourism- there is one special managed studio, olso the ramp and we are educated trainer for hiporehabilitation.